Rewards and Sanctions
At Le Rocquier School we work hard to create an environment where students can Learn, Respect and Succeed.
We are proud to have a culture whereby respectful behaviour and hard work is recognised and acknowledged. Students in our school are rewarded throughout the day for demonstrating our 'Values in Action' around school and rewarded again when completing schoolwork through our academic 'Values in Action'. This instant behaviour recognition in a class setting reinforces the positive behaviours to help students learn and instil our mission and values through 'Lean, Respect and Succeed'.
Achievement points are allocated by staff instantly through 'SIMS' which parents are able to see daily on the SIMS Parent App as they are given.
Rewards take place through the following ways:
Instant individual achievement points associated with the House values and Learning Behaviours in and in representing school
One-off house involvement and performance.
Weekly Student and Team of the week recognition
End of half term 'Behaviours in Action' certificates (1 per form).
End of half term 'Personifying House Values" postcards home.
End of year subject specific 'Behaviours in Learning' awards nominated by faculty staff.
End of year 'House Values Awards'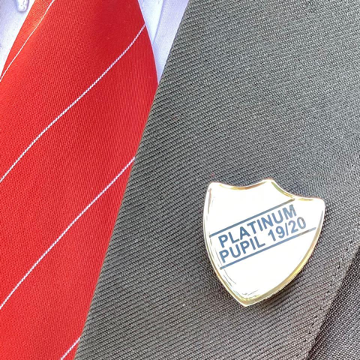 Students who are in the top 10% for their year group for their end of year conduct points are awarded 'Platinum' status. This accolade is recognised throughout the next academic year by treats and rewards and is represented through the wearing of the 'Platinum Student' Badge.
Awards for academic, sporting and creative excellence and significant effort are given out at our annual 'Whole School Awards' night at the end of the academic year.
Our behaviour and sanctions processes are called 'The Consequence System'. It is a clear and simple system whereby there is an appropriate consequence of a negative incident. This is an opportunity to learn and to avoid it occurring again. This could be words of advice, a 5 minute breaktime detention, a 20 minute lunchtime detention or even an hour after school if needed. For more serious incidents we follow the policies agreed with CYPES and our Governing Body, this does include suspensions but is only used for the infrequent very serious incidents. This is fully explained in the Sanctions Policy below.